Ruby Harris: Fiddle, Guitar & Mandolin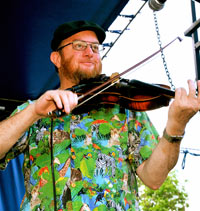 Ruby began his professional career as an Irish musician at the young age of 15 as an accompanist to Irish singer Anne Finnerty, at Patricks Pub in Douglaston, New York. They moved into many venues, among them Tommy Makems Irish Pavilion in New York City. Among his musical companions are members of the Chieftans and the Bothy Band and other greats of Traditional Irish music, such as the composer of "Dirty Old Town" Ewan McColl, Carmel Quinn, the great Scottish fiddler Tom Anderson, Matt Molloy, Tommy Peoples, Maurice Lennon, Tom Loughran of Tyrone, Paddy Keenan, Joe O'Dowd, the Russel brothers of Doolin, Katy Sullivan and many others.  Ruby has been a member of Mulligan Stew since 2000.
Dave Dalessandro: Fiddle, Mandolin & Guitar
Began playing in the early 70′s, learning Beatles songs and Fingerstyle Blues On Guitar. Moved on to Fiddle & Mandolin when he got interested in Bluegrass & Irish Music.  Has played in countless ensembles ranging from Rock and Blues to Bluegrass and Irish.  Besides playing with Mulligan Stew since 2003 he also plays in an Acoustic Duo with longtime musical associate Patrick Guinee and a Grateful Dead cover band called "The Guise".